BACKGROUND: The Ergenekon investigation was first launched in 2007 and rapidly grew to become the largest, most expensive and most controversial case in modern Turkish history. It also spawned a barrage of other judicial investigations. Some were merged with the main Ergenekon case. Others have continued as separate cases.
All of the cases are characterized by the same features which recur like motifs and have become almost as distinctive as fingerprints. They include an initial anonymous tipoff, usually in the form of a letter or email, containing detailed allegations against named individuals and information on where evidence of their offences can be found. The police then raid the premises indicated, recover the "evidence" in the form of digital documents and arrest the alleged culprits, who are charged in prodigiously long indictments redolent with paranoia and cognitive dissonance. Most allege that the accused were members of a terrorist organization and had been plotting to stage or instigate a military coup. No convincing evidence has yet been produced to support any of the claims.
Each case has been accompanied by a vigorous media campaign led by outlets affiliated with the followers of the exiled Islamic preacher Fethullah Gülen. Similarly, all of the investigations have been handled by a small cabal of Gülen's followers in the police and lower echelons of the judiciary, most of them based in Istanbul. Initially, the cases primarily targeted secular Turkish nationalists and members of the Turkish military. However, in recent years, the cases have been expanded to target an improbably disparate array of suspects with widely differing political views whose only common denominator is that they are critics, opponents or rivals of the Gülen Movement.
Disturbingly, there are also numerous instances where "evidence" has clearly been fabricated and planted in premises associated with the accused. Sometimes it has even been planted in the wrong premises. For example, on August 4, 2010, police attempted to incriminate a naval officer called Emrah Karaca by planting digital evidence in the form of computer hard disks, CDs and DVDs in his apartment. But, in a mix-up over addresses, they planted it in the home of another naval officer called Emrah Kücükakça, who was promptly arrested. After six months in prison, Kücükakça was released after being able to prove that he was not Karaca. No action has been taken against the officers who planted the material incriminating Karaca in Kücükakça's apartment.
In the main Ergenekon case, prosecutors allege that the accused are members of a vast, centrally-controlled terrorist organization, which is called Ergenekon and which controls every militant group active in Turkey, including Islamists, leftists and even the Kurdistan Workers' Party (PKK). On September 18, 2008, a young army helicopter pilot called Mehmet Ali Çelebi was arrested on charges of infiltrating the tiny Turkish branch of Hizb ut-Tahrir in order to control it for Ergenekon. The only plausible evidence against him were the numbers of known Hizb ut-Tahrir militants in the address book on his cell-phone. However, when Çelebi appeared in court he was told that his cell-phone also had entries for "my wife" and "my mother-in-law". Çelebi pointed out that he was still unmarried. In an official document sent to the court, the police admitted that they had loaded the address book from a known Hizb ut-Tahrir militant onto Çelebi's cell-phone. The perpetrators have not been punished. On August 5, 2013, Çelebi was sentenced to sixteen years and six months in prison for membership of Ergenekon.
In September 2012, in what has become known as the Sledgehammer case, 330 serving and retired members of the Turkish military were sentenced to lengthy jail terms after being convicted of plotting to stage a coup in 2003. All of the evidence in the case – including the alleged coup plot, which is codenamed "Sledgehammer" – comes from a single CD. The metadata appears to indicate that the documents on the CD were last saved in March 2003, which coincides with a military seminar at which prosecutors claim that the coup plot was discussed. However, not only is the "coup plot" riddled with anachronisms but forensic examination has shown that it contains fonts and schema from Microsoft Office 2007, which was not released until 2006. In a 1,500 page document justifying the verdicts, the judges in the Sledgehammer case maintained that, when it is used to open documents saved in a previous version, Microsoft Office automatically updates them to the latest version, incorporating all the new fonts and schema. This is a patent untruth. Even if true, the "last saved" date would obviously have been after, not before, Office 2007 was released.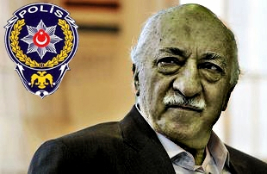 IMPLICATIONS: In this context, the guilty verdicts announced on August 5 are no surprise. What was unexpected was the length of the sentences. In addition to the nineteen life sentences, another 78 of the defendants have received jail terms of ten years or more. For example, journalist Mustafa Balbay, whose only crime appears to have been that he was the Ankara bureau chief of the pro-secular Cumhuriyet daily newspaper, has been sentenced to 34 years in prison. Kemal Gürüz, the former head of the Supreme Electoral Board (YÖK), which oversees university education, has received a jail sentence of 13 years and 11 months. The secularist author Ergün Poyraz, who specializes in books on the Turkish Islamist movement, has been sentenced to 29 years and seven months in prison. General İlker Başbuğ, who served as Chief of the Turkish General Staff from 2006 to 2008, has received a life sentence as an alleged "leader" of Ergenekon. Bizarrely, this means that Başbuğ is alleged to have been simultaneously controlling both the PKK and the military forces which were fighting against it.
The vindictive severity of the sentences has also reinforced concerns about other Ergenekon-related cases currently making their way through the courts. For example, in what has become known as the OdaTV case, after the internet news portal where most of the defendants worked, a total of 13 journalists face the prospect of lengthy jail terms on charges of belonging to Ergenekon. In each instance, the only evidence against them – and the only issue on which they have been questioned by prosecutors – is what they have written or said about Gülen and the Gülen Movement. They include Ahmet Şık, a left-wing journalist who published a book in 2011 entitled İmamin Ordusu, or "The Imam's Army", about the penetration of the security forces by Gülen's followers. In 2010, Hanefi Avcı, a former police chief who had once been sympathetic to the Gülen Movement, published a book entitled Haliç'te Yaşayan Simonlar or "Simons living on the Golden Horn", which detailed the penetration of the police by Gülen's supporters, He was promptly arrested. On July 19, 2013, Avcı was sentenced to 15 years and four months in prison.
On January 21, 2013, a court in Izmir accepted an indictment in a case which charges 357 defendants with membership of a spy ring. They are accused of using prostitutes to blackmail officials into parting with state secrets, which were then sold to the PKK and as yet unnamed "foreign powers". Although none of the defendants has yet been charged with membership of Ergenekon, it bears all the other trademarks of the cases, including an anonymous email tipoff, the "discovery" of digital evidence and a vigorous supporting campaign in the pro-Gülen media. Seemingly inevitably, it also includes its share of absurdities. For example, some of the digital documents used as evidence against one of defendants were last saved several months after he had been arrested and put in prison, where he had no access to a computer. Two of the suspects are brothers. As evidence that they were colluding in a clandestine organization, prosecutors cited their telephone records which showed that they had called each other.
CONCLUSIONS: Although both share a common goal of making Turkey a more conservative society – albeit preferably a self-regulating one, rather than one in which Islamic values are enforced by the statute book – there have always been tensions between the Gülen Movement and Prime Minister Recep Tayyip Erdoğan. Nevertheless, after the Justice and Development Party (AKP) first came to power in 2002, they formed an alliance of convenience. Initially, it was primarily defensive. Both still feared the old secular regime, particularly the Turkish military.
Eventually, they began to realize what many in the military had long known – namely that the era of military tutelage was already over and the generals' once irresistible influence reduced to little more than bluff and bluster. The turning point came in 2007 when the AKP successfully rebuffed a clumsy attempt by the military to prevent it from appointing Abdullah Gül to the presidency. Over the years that followed, the Islamists gradually went on the offensive. Erdoğan stood back and watched as the Gülen Movement expanded its influence in the police and the judiciary, using politically motivated cases to neutralize their common enemies.
In recent years, the former allies have begun to turn against each other – as the struggle for power has shifted from one between the Islamists and their opponents to one within the Islamist movement. In this context, whether intentionally or not, the severity of the verdicts in the Ergenekon case has also sent a message to Erdoğan that – at time when he appears to be sliding deeper into solipsistic authoritarianism – there is still a power he cannot control.
But such demonstrations of power also come at a cost. Many of Gülen's followers are doubtless simply pious Muslims attracted by his professions of dialogue and non-violence and blissfully unaware of the nefarious activities of other members of the movement. Yet the evidence – including confessions – that a cabal of Gülen's followers are behind cases such as Ergenekon, Sledgehammer and the Izmir Spying Ring is now so extensive as to be irrefutable. Perhaps more damagingly, few international observers now doubt the Gülen's Movement's involvement. Consequently, the severity of the Ergenekon sentences has focused international attention not only on the case itself but also on the alarming gap between the Gülen Movement's rhetoric and the practices of some of its members. As a result, the verdicts are likely to reinforce already growing doubts about the movement at a time when its worldwide activities – particularly in Europe and the U.S. – are coming under increasing scrutiny.
Gareth H. Jenkins is a Senior Fellow with the Central Asia-Caucasus Institute & Silk Road Studies Program Joint Center.