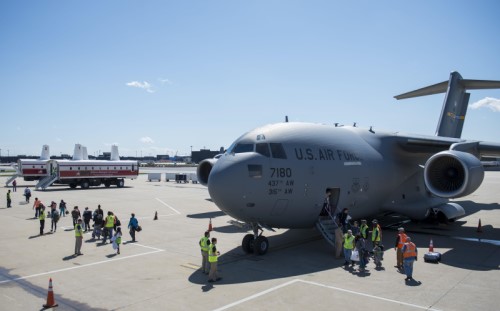 BACKGROUND: On September 11, Wisconsin Senator Ron Johnson, chair of the Senate Foreign Relations subcommittee for Europe, discussed deteriorating U.S.-Turkish relations and said, "We don't know what's going to happen to İncirlik," adding that options including relocating to Greece were under consideration. The next day U.S. Secretary of State Mike Pompeo made a brief trip to Cyprus, where he met with President Nicos Anastasiades. Commenting on conflicting claims between Turkey, Greece and Cyprus to Eastern Mediterranean subsea areas believed to contain rich deposits of natural gas Pompeo firmly supported Cypriot claims and said, "We remain deeply concerned by Turkey's ongoing operations."
In the U.S. military's global footprint İncirlik Air Base has hosted U.S. Air Force assets for sixty six years, which currently include 50 tactical nuclear weapons, although U.S. military policy is to not comment on their presence. Since its establishment in 1954, two years after Turkey joined NATO, İncirlik played major roles during the Cold War, the 1990-1991 Gulf War, and subsequently during the U.S.-led Operation Inherent Resolve targeting ISIL elements in Syria and Iraq.
NATO allies also rely on İncirlik as a staging point for access to the Middle East. In addition to the United States, soldiers from other NATO members such as Germany and the Netherlands are also on duty at İncirlik, from where the alliance runs aerial surveillance operations. İncirlik's geography alongside its dozens of tactical nuclear weapons gives the base an uncommonly high strategic value to the U.S. military, as well as making it a prime bargaining chip in Turkey's relations with the U.S., which have waxed and waned since the 2003 Gulf War, when Turkey refused the U.S. permission to use İncirlik to support operations in Iraq.
Based at İncirlik, the U.S. Third Air Force's 39th Air Base Wing defines its mission as "defend NATO's southern flank," to "Project global power through strategic deterrence, agile combat support, and enduring partnerships to defend U.S. interests and our allies along NATO's southern flank." While during the Cold War İncirlik was a significant anti-Soviet operations center, since the 1991 implosion of the USSR, the U.S. has repurposed the base and its 2,500 U.S. soldiers there because it is useful for its anti-ISIS operations and because Washington has wanted to keep Turkey tightly bound to NATO.
IMPLICATIONS: Complicating the already fraught bilateral U.S.-Turkey relationship, Turkey has recently dramatically increased tensions in the eastern Mediterranean by unilaterally violating the continental shelves and maritime spaces of both Cyprus and NATO member Greece, provoking rebukes from the Trump administration. In turn, Turkish president Recep Tayyip Erdoğan once again threatened U.S. access to İncirlik, something he has repeatedly done since the failed coup attempt in 2016, which the Turkish regime believes was tacitly supported by Washington. Since 2019 the Turkish president has also threatened to expel the American military from İncirlik air base if the U.S. Congress imposes sanctions on Turkey for purchasing the Russian S-400 antiaircraft system.
The United States in turn is frustrated with Turkey on other policy issues, including Turkish incursions into Syria, U.S. support for the Syrian-based People's Protection Units (YPG), the Syrian offshoot of the Kurdistan Workers' Party (PKK), which Turkey, the United States and the European Union label a terrorist group, its military interference in Libya's civil war and most recently, its firm support for Azerbaijan in its armed conflict with Armenia over Nagorno-Karabakh. Senator Ron Johnson, chair of the Senate Foreign Relations subcommittee for Europe, remarked that "It's very unfortunate the path that Erdoğan is taking Turkey, or has put Turkey on. It's very concerning, which is one of the reasons we certainly are increasing and improving our military cooperation with Greece."
Even as the U.S. government telegraphs mixed signals on the future of İncirlik, Washington has clearly shown support for Greece in its eastern Mediterranean territorial disputes with Turkey. On September 29, while visiting Crete, U.S. Secretary of State Mike Pompeo – during his second visit to the region in a month – assured the Greek government of Washington's interest in maintaining strong defense relations with Greece as it faces unresolved issues with Turkey. Pompeo said relations between the United States and Greece are "at an all-time high and getting stronger." He also offered a new element of military support; "Today, I have an announcement that the prime minister foreshadowed, where the USS Hershel "Woody" Williams (ESB 4), the US Navy's newest expeditionary sea base … will call Souda Bay home."
Since 1969, Souda Bay in Crete has served as a U.S. Navy logistics hub for aircraft carrier port visits. Beyond its naval usefulness, Souda Bay also has a runway, making it a possible alternative to İncirlik. Notably, it is the first time in forty years that a U.S. ship will use the joint U.S.-Greece base as a homeport for its ESB 4 expeditionary sea base carrying Marines and special operations troops for training or transport to hot spots. In a measure of its broad mandate, while the ESB 4 is assigned to U.S. Africa Command, it will also be available to support other commands, with an operational range beyond the Mediterranean to the waters around East, South, and West Africa, including the Gulf of Guinea.
Despite Secretary of State Pompeo's enthusiasm for deepening military ties with Greece, in an effort to quell speculation in U.S. relations with Turkey, the day after he made his Souda Bay pronouncement Pompeo told the Greek Kathimerini newspaper, "There is currently no plan to move out of İncirlik."
Yet the future of İncirlik is unclear at best. If the U.S. Congress imposes sanctions on Turkey for purchasing and now activating the Russian S-400 antiaircraft system, and if Turkey in turn retaliates by expelling American military personnel from İncirlik, as Erdoğan has threatened, it will be a significant interim reversal for American regional military access.
CONCLUSIONS: For the moment, official Washington is largely dismissive of the U.S. leaving İncirlik. But the parlous state of U.S.-Turkish relations is a topic that both the Republicans and Democrats agree upon, and a change in Washington may bring the issue to the fore. In a December 2019 interview for the FX documentary series "The Weekly," which resurfaced in August 2020, Democratic presidential candidate Joe Biden shared his perceptions about Turkey with The New York Times editorial board, commenting "What I think we should be doing is taking a very different approach to him [Erdoğan] now, making it clear that we support opposition leadership," adding, "They got to understand that we're not going to continue to play with them the way we have. So I am very concerned. I am very concerned. I'm very concerned about our airfields [at İncirlik Airbase in Adana, Turkey] and access to them as well."
As relations with Turkey continue to deteriorate, American policy makers may very well consider drastic measures such as removing İncirlik's assets.
AUTHOR'S BIO:
Dr. John C. K. Daly is a Nonresident Senior Fellow of the Central Asia-Caucasus Institute. His current work includes monographs on the development of Eurasia's railways and the dissolution of the Soviet Navy.
Image Source: Image Source: US Air Force photo by Staff Sgt. Andrew Lee accessed on 10.21.2020