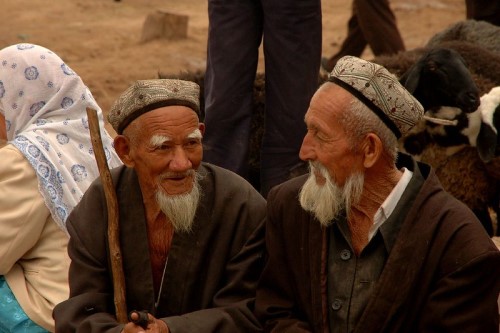 BACKGROUND: Turkey's relationship with China has been problematic for several decades as a result of Turkey's commitment to the Uighurs, a Turkic-speaking ethnic group living predominantly in China's Xinjiang Uighur Autonomous Region but also in Central Asian countries and Turkey. For decades and through successive governments, Turkey has provided support for China's Turkic minorities, with whom it shares strong ethnic, linguistic, religious and cultural bonds. (There are also ethnic Kazakh and Kyrgyz communities in Xinjiang.)
Not only have Turkish leaders strongly criticized China's treatment of the Uighurs – in 2009, for instance, President Recep Tayyip Erdoğan accused China of "near genocide" – but Ankara has also provided concrete support, allowing refuge to those fleeing Chinese repression in Xinjiang. Turkish diplomats are known to have facilitated travel of Uighurs from third countries to Turkey. In 2014, for instance, a Turkish diplomatic intervention prevented some three hundred Uighurs in Thailand from being deported back to China, where they faced imprisonment or death. They were instead relocated to Turkey. Turkey had few restrictions on Uighurs and was therefore considered a safe haven.
Harsh Turkish criticism of the repression unleashed by the Chinese government on Uighurs in Xinjiang prevented the development of bilateral economic ties. However, as Turkey's relations with the United States have become seriously strained in recent years, Ankara has begun to invest in improving its ties with China, and Sino-Turkish cooperation has grown considerably in a short time.
Economic cooperation has been a crucial aspect of this growing bond. Sino-Turkish bilateral trade has grown rapidly. From US$ 1.1 billion in 2001, trade has grown to US$ 10 billion in 2009 and to US$ 23.6 billion in 2018. Yet, trade is lopsided with a US$ 18-billion trade imbalance in China's favor, which accounts for 33 percent of Turkey's total trade deficit of US$ 55.1 billion. Although Turkish leaders have promised to reduce the trade gap, they have gained little ground vis-à-vis China on the matter. Instead, Turkey's dependency on China has grown over the last couple of years.
China has come to the rescue of Turkey, which since 2018 has been in the grips of a severe financial and debt crisis. The value of the lira has plummeted, losing nearly half of its value since 2018. Inflation has soared, the trade deficit is mounting, and foreign exchange reserves available to pay off debts have shrunk. The Covid-19 pandemic has worsened the situation through diminishing tourism revenues among other impacts. China extended financial support to Ankara by providing it with a US$ 3.6 billion loan package. To stave off a collapse of Turkey's currency, it extended a swap of Chinese renminbi for Turkish lira valued at US$ 400 million, under a swap agreement reached in 2012. The funds were delivered to Turkey at a crucial time, during the run-up to the municipal elections in March 2019. China has also announced that it aims to double its investment in Turkey to US$ 6 billion by 2021.
IMPLICATIONS: China's expanding role in Turkey's economy, especially by extending a lifeline at a time of trouble, has made Turkey amenable to Chinese pressure. It seems likely that Chinese authorities made greater Chinese investment in the Turkish economy contingent on Ankara diluting its support for the Uighurs, and that a vulnerable Turkey heeded Beijing's demands on the Uighur question. Turkey is no longer the safe haven that it used to be for Uighurs.
Uighurs applying for long-term residency in Turkey are being turned down and told to reapply from their country of origin, although going back to China for this purpose is not an option for many of them. Many are labeled as illegal immigrants and sent to deportation camps. Turkey and China signed a draft extradition agreement in 2017, which the Turkish parliament has not yet ratified. If ratified, the agreement would oblige Ankara to heed China's extradition requests. However, Turkey is already reportedly deporting Uighurs back to China via third countries, thus apparently quietly meeting Beijing's requests. Uighurs are sent back through countries like Tajikistan, which has an extradition treaty with China and from where Beijing can more easily secure their repatriation.
While Chinese pressure is an important underlying reason for Turkey's deportation of Uighurs, there are also domestic reasons for the Turkish government's shifting policy. A section of radical Uighurs, including several living in Turkey, joined jihadist groups like the terrorist organization known as the Islamic State in Syria and Iraq (ISIS) and headed off to fight in Syria and other jihadist battlefields. While they served as useful pawns in Turkey's strategy in Syria, their return back to Turkey is unwelcome, and a further motive for Turkey's increasing willingness to send Uighurs back to China.
Yet while building a new, economic relationship with China and cracking down on Uighurs to accommodate Beijing, Turkey has still not fully surrendered the Uighur card. While human rights activists criticize Turkey for abandoning the Uighurs, Turkey's foreign ministry spokesperson in February 2019 accused China of subjecting over a million Uighurs to "torture and political brainwashing" in detention camps. Neither has the Turkish parliament passed the extradition treaty with China. Indeed, the Uighur issue provides the Turkish government with some degree of leverage in its relations with China and it seems to have concluded that surrendering this leverage altogether would yield little benefit for Turkey.
Nonetheless, Turkey's dependence on China is mounting and is poised to grow further as its participation in the Belt and Road Initiative gains momentum and debts owed to China pile up. It thus seems inevitable that this will lead to further Turkish distancing from the Uighurs in the coming years.
CONCLUSIONS: Turkey's growing economic relationship with China and the dependence on China that it brings has made Turkey susceptible to Chinese pressure. This manifests itself in a dramatic shift in Turkey's stance toward the Uighurs, with the abandonment of the decades-long Turkish tradition of supporting China's Turkic minority. But the shift in Turkey's stance has also been prompted by domestic security concerns over Uighur radicalism.
China's expanding role in Turkey's economy and Ankara's increasing dependence on Beijing assures that Turkey will maintain its distance to the Uighurs. However, as an aspiring, ambitious power, Turkey cannot either afford to be seen to be fully abandoning the Uighurs. Turning a blind eye to the plight of Uighurs will expose Turkey to the charge that it is becoming a Chinese client state. Yet if it fails to meet Chinese demands to distance itself from the Uighurs, its economy will be hurt. The shift in Turkey's stance toward the Uighurs is likely to be permanent and it ultimately speaks of the primacy of economic concerns over nationalism.
AUTHOR'S BIO:
Dr. Sudha Ramachandran is an independent analyst based in India. She writes on South Asian political and security issues. Her articles have been published in Asia Times, The Diplomat, China Brief, Asian Affairs, etc. She can be contacted at This email address is being protected from spambots. You need JavaScript enabled to view it.