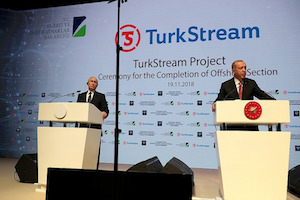 BACKGROUND: In 2015, Turkey's energy policy stood at crucial geopolitical and economic crossroads as Ankara endeavored to grapple with the strategic paradox of its inordinate dependence on Russian natural gas. In that year, Russian gas accounted for 58.2 percent of Turkey's imported gas supply mix. With virtually no domestic sources, Turkey depends on imports for 99 percent of its natural gas supply. Most of Turkey's natural gas demand is driven by power production making a reliable and affordable gas supply a key to Turkey's economic growth. During Turkey's economic boom from 2002 to 2012, in which annual GDP growth averaged 5 percent, the country's natural gas consumption more than tripled. By 2014, electricity generation accounted for 46 percent of Turkey's natural gas consumption.
The cornerstone to Turkey's effort to diversify its import supply mix was the Trans-Anatolian Natural Gas Pipeline (TANAP) constructed in partnership with Azerbaijan. In the aftermath of the 2008 Russian-Georgian war, Turkey and Azerbaijan began to formalize a strategic partnership to bolster their mutual security vis-à-vis Moscow in the wider Black Sea/South Caucasus region. The most significant outcome of this partnership is the construction of TANAP. Operational since June 2018, TANAP is intended to transport natural gas from the Caspian Sea across the length of Turkey for sale in Turkey's domestic gas market as well as in the EU, via a connection to the Trans-Adriatic Pipeline at the Turkey-Greece border. That connection was made in November 2018, rendering TANAP, in combination with the expanded South Caucasus Pipeline extending across Azerbaijan and Georgia to the Turkish border, into a Baku-to-Bosporus natural gas route that constitutes the central component of the EU's Southern Gas Corridor. Initially, TANAP will provide Turkey with 6 billion cubic meters per year (bcm/y), leaving the remaining 10 bcm/y for sale to the EU. TANAP's export volume is slated to increase – transporting 23 bcm/y by 2023, 31 bcm/y by 2026, and ultimately 60 bcm/y with infrastructure expansion. TANAP's scheduled capacity increases create the possibility of the pipeline transporting gas from other countries in the Caspian Basin, the Middle East, and the Eastern Mediterranean as the increases in volume will require gas from other regional producers besides Azerbaijan.
Turkey's state-owned gas company BOTAŞ maintains two major natural gas purchase contracts with the Russian Federation's Gazprom: the Blue Stream contract that delivers 16 bcm/y and the Western Line contract that delivers 8 bcm/y. While the Blue Stream contract is set to expire in 2028, the Western Line contract will expire in 2021 and represented an opportunity to reduce government import of Russian gas by one-third. Given the current schedule of TANAP's capacity expansion, Turkey could have replaced as much as two-thirds of BOTAŞ's Russian natural gas imports by the time the Blue Stream contract expires in 2028. Should Turkey and its partner Azerbaijan decide to accelerate TANAP's capacity expansion, theoretically all of Turkey's Russian gas imports could have been replaced by 2028.
The geopolitical cost of Turkey's dependence on Russian natural gas also came into sharp focus with Moscow's 2015 military intervention in Syria to bolster the regime of President Bashar al-Assad, whom Turkey sought to remove from power. Russia's involvement immediately resulted in violations of Turkish airspace, the harassment of Turkish fighter jets, and significant attacks on Turkish-supported Syrian rebel forces. Three weeks prior to Russia's September 30, 2015 entrance into the Syrian conflict, negotiations between Moscow and Ankara over the Turkish Stream pipeline were "frozen." The Turkstream project, a re-routing to Turkey of the cancelled Russian South Stream pipeline to Bulgaria, had been announced on December 1, 2014 after the ill-fated South Stream ran afoul of EU authorities and Bulgaria. One year later in early December 2015, Turkstream was suspended following the Turkish air force's November 24, 2015 downing of a Russian Sukhoi Su-24 bomber that allegedly violated Turkish airspace.
IMPLICATIONS: With Turkstream scheduled to become operational in 2019, Turkey's energy outlook remains closely bound to Russian natural gas giant Gazprom. The 910 km twin pipeline will have a maximum capacity of 31.5 bcm/y. The first line will transport 15.75 bcm to Turkey, equivalent to about half the volume of gas that Turkey imports from Russia. The second line will transport gas to southern Europe. Ankara managed to elicit a 10.25 percent discount from Gazprom, arguably due, at least in part, to TANAP offering Turkey the potential to reduce its import volume of Russian gas. Nonetheless, Russian exports from Turkstream will account for approximately 35 percent of Turkey's overall gas consumption, entrenching Russia's unassailable position in Turkey's energy market.
Following upon Nord Stream, an undersea twin pipeline connecting Russia to Germany via the Baltic Sea, Turkstream is a triumph of Russian energy diplomacy as Moscow now has the capacity to export more of its gas to Europe without depending on Ukraine as a transit state. Moscow's current agreement with Kiev expires at the end of 2019. Despite objections within the EU, Russia is now constructing a Nord Stream 2 pipeline and countries in the eastern Balkans have made overtures to host a Turkstream 2 pipeline, preserving Russia's preeminent position in the EU natural gas market.
Ankara's accommodation of Moscow's natural gas interests may have several motivations. In light of Ankara's rejection of Russia's Crimea annexation and its ongoing relationship with the government in Kiev, Turkstream helps Ankara to strike a balance between Russia and Ukraine in the Black Sea. Moreover, Turkstream may have been a factor in Moscow's more sympathetic posture toward Turkey's interests in Syria. In September 2018, Russia agreed to create a jointly monitored, demilitarized zone in Idlib, bordering Turkey's Hatay province, that consequently prevented Syrian and Russian air force attacks on Turkish-allied forces.
Ankara's primary motivation for Turkstream appears to be its own strategic vision to use Turkey's geographic position as the land-bridge between Europe and the gas-rich regions of the Middle East and Caspian Basin to become a major energy hub. In his speech at the ceremony marking the completion of Turkstream's undersea segment, Turkish Minister of Energy Fatih Dönmez reiterated this oft-articulated goal in no uncertain terms. More than simply being a mega-transit state for natural gas to reach Europe, Dönmez declared that "Turkey aims to become an energy center, where buyers and sellers meet and where prices are determined." In addition to pipeline construction, Turkey has made consistent advances toward this goal with its ongoing efforts to increase its natural gas storage capacity and to liberalize its energy markets. While the EU has supported Turkey to expand its capacity as a transit state, it has not endorsed Ankara's hub ambitions. In contrast, President Putin used the occasion of the November 19 ceremony in Istanbul to unequivocally declare that Turkstream would make Turkey into a "major European hub" for energy – reinforcing the message that, in contrast to Brussels and Washington, Moscow is a reliable partner that respects Ankara on equal terms.
CONCLUSIONS: Turkstream couples Ankara's energy hub ambitions with Moscow's drive to protect its share in the EU natural gas market. Russia's partnership with Turkey forms part of its larger objective to re-establish itself as an indispensable actor in the Middle East whose interests must be taken into account. Russia's strengthened position in Turkey's natural gas market also affords Moscow another avenue by which to challenge the EU and the Atlantic alliance by exploiting the divisions among member states, as well as those between the US and the EU, over the importation of Russian gas to Europe, especially in the context of the Ukraine crisis.
While Turkey's efforts to develop into a clearinghouse for Middle Eastern and Caspian energy natural gas to reach European markets had once brought Ankara into close partnership with the Brussels, the freezing of Turkey's EU accession process has transformed Turkey-EU energy relations into a transactional affair. Ankara's ambition to establish Turkey as an energy hub has now led it to accept an outsized role for Russian natural gas imports in its supply mix. It has also led Ankara to embrace Moscow as a partner in the realization of its strategic ambition.
AUTHOR'S BIO:
Dr. Micha'el Tanchum is a Fellow at the Truman Research Institute for the Advancement of Peace, Hebrew University and an affiliated scholar with the Centre for Strategic Studies at Başkent University in Ankara, Turkey (Başkent-SAM). Follow @michaeltanchum
Picture credit: kremlin.ru accessed on December 20, 2018