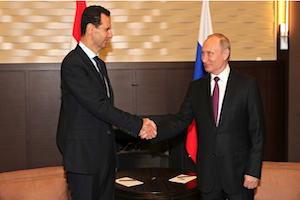 Background: Using 2,200 Special Forces and air power, the U.S. created a 19,700 square mile (51,000 sq. km) zone of deterrence east of the Euphrates to protect the Syrian Democratic Forces (SDF) spearheaded by YPG fighters. Following the U.S. withdrawal, Turkey seeks to intervene in this region for the declared objective of eliminating the YPG. Ankara announced its plans to establish a Turkish-controlled safe zone extending 20 miles (32 km) deep from the Turkish border along a 285-mile (460 km) wide swath of northeastern Syria. Turkey claims that Washington has acceded to its plans, while statements by President Trump, U.S. Secretary of State Mike Pompeo and other Trump administration officials indicate otherwise.
Moscow looks askance at an expanded Turkish presence in northern Syria, as the Kremlin's end-game is for Bashar al-Assad's regime to regain control of all Syrian territory. The city of Manbij, 18.6 miles (30km) west of the Euphrates, has become a focal point of the jockeying between Turkey and Russia. The largely Arab city under SDF control is regarded as a gateway to northeastern Syria. According to the Turkey-U.S. Manbij road map agreement, American forces are required to evacuate the YPG and its Arab allies from Manbij. Turkish troops and their Syrian allies are poised on the outskirts on Manbij to enter the city are now facing Russian armored vehicle patrols on the opposite side in support of Syrian government troops deployed to retake Manbij.
Until now the trilateral Astana framework among Ankara, Moscow, and Tehran has benefitted Turkey as Russia and Iran have proved accommodating to many of Turkey's demands. However, Ankara cannot expect this trilateral format to approve its current safe zone plan. Because of Washington's support of the YPG, opposition to the American presence in Syria was the principal common interest between Turkey and the other two Astana guarantors. The American withdrawal has removed this unifying factor from the Syria equation. The divergence of interests between the Astana guarantors is rapidly becoming more pronounced.
On January 16, 2019, Russian Foreign Minister Sergei Lavrov unequivocally declared that northeastern Syria should revert back to the control of the Assad regime under whom the Kurds of the region should find some form of accommodation. "We are convinced that the best and only solution is the transfer of these territories under the control of the Syrian government," Lavrov stated. Obliquely referring to Turkey's planned intervention, Lavrov added, "We welcome and support contacts that have now begun between Kurdish representatives and Syrian authorities so they can return to their lives under a single government without outside interference."
Russia's September 2015 intervention in the Syrian Civil War was originally defined by three objectives: ensuring the continuation of the Assad regime, defeating Sunni extremist militants, and offsetting Western attempts to isolate Russia. More than four years later, Moscow has emerged as one of the principal power brokers and security providers in the Middle East. Russia's resurgence in the region contrasts sharply with the decline of Turkish influence.
Turkey's position vis-à-vis Russia is further weakened by Turkey's failure to eliminate the Sunni militant coalition led by Syria's former Al-Qaeda affiliate Jabhat al-Nusra, Hayat Tahrir al-Sham (HTS), from Idlib province. Under terms of September 2018 Sochi agreement between Ankara and Moscow, Russia acceded to the creation of a jointly monitored, demilitarized zone with Turkey in Idlib, bordering Turkey's Hatay province. The agreement prevented Syrian and Russian air force attacks on Turkish troops and the forces of the Turkish-backed National Liberation Front (NLF) coalition on the premise that the NLF under Turkey's supervision would dislodge HTS from the buffer zone.
After a ten-day HTS offensive against NLF positions, the defeated NLF ceded administrative control of all its positions to HTS on January 10, 2018, allowing Jabhat al Nusra to secure its hold on northern Idlib. Constituent forces of the NLF, particularly the Noureddine al Zinki Brigade, and other Turkish-backed allied forces had apparently shifted their focus to preparing for the upcoming battle of Manbij and Turkey's incursion into northeastern Syria.
On January 18, Russian Foreign Minister Lavrov expressed the Kremlin's consternation, "It also worries us that in Idlib, contrary to the agreements on creating the demilitarized zone there, Jabhat al-Nusra dominates and violates the demilitarized zone. About 70 percent of this territory is already occupied by terrorists; they are trying to attack the Syrian army's positions, settlements and they are trying to threaten our military air base in Hmeymim." A Syrian government assault on Idlib backed by Russian airpower and Special Forces would enhance Damascus' and Moscow's position in Northern Syria at Turkey's expense.
IMPLICATIONS: Turkey's already compromised position vis-à-vis Russia has been further weakened by the rapid reconciliation between the Assad regime and its Arab opponents, notably the anti-Turkish bloc led Egypt, the United Arab Emirates (UAE), and Saudi Arabia. Egypt, the UAE, Jordan, Bahrain, and Sudan have engaged in the process of reestablishing relations with Syria. If Saudi Arabia follows suit, then the anti-Turkey alignment led by Riyadh, Cairo, and Abu Dhabi could mobilize most of the Arab nations against Ankara's plan to enter Manbij and establish a safe zone in northern Syria. As Damascus has already declared its opposition to Ankara's safe zone plan, Turkish military action in northeastern Syria could provoke the crystallization of a broader anti-Turkish Arab bloc.
The rehabilitation of the Assad regime formally began with the December 16, 2018 visit to Damascus by Sudanese President Omar al-Bashir, the first visit by an Arab leader since Syria was expelled from the Arab League in 2011. Bashir's visit signaled the onset of a wider thaw between Arab nations and the Assad regime as his visit would not have occurred without the tacit approval of Saudi Arabia. The visit also revealed the limits of Ankara's influence over Sudan, despite Turkey's $650 million of development initiatives, including Turkey's construction of Khartoum's new international airport. In a telling sign, the Sudanese president traveled to Damascus in a Russian plane. Sudan, cashed-strapped and indebted to Russia, has reportedly given concessions to Russian companies in various extractive industries including gold, diamonds, oil, and gas. Bashir's Damascus visit was prompted in part by Moscow's eagerness to bolster the Assad regime through renewed ties with the Arab World.
A week later, Syria's security chief Ali Mamlouk, a member of Assad's inner circle, visited Cairo for talks reportedly at the invitation of Egyptian intelligence chief Abbas Kamel. In late December 2018, Ilham Ahmed, the co-chair of the SDF's political arm, informed the press that the SDF's channels of communication with Egyptian officials would be utilized in negotiations with the Assad regime to reach an agreement that would deter Turkey from launching a military intervention. Ahmed explained, "There have been contacts over the past few days between Kurdish leaders and Egyptian officials so that Cairo would take part in the mediation with Damascus." Egypt and Russia already enjoy a strong military partnership and are actively cooperating to combat Turkish-sponsored Islamist groups in Libya.
According to the pro-government Turkish newspaper Yeni Şafak, representatives of the Egyptian and UAE governments visited Manbij to discuss how to prevent a Turkish takeover. On December 27, 2018, the United Arab Emirates reopened its embassy in Damascus after an eight-year hiatus. Explaining the decision, the UAE's minister of state for foreign affairs Anwar Gargash declared in a tweet, "The Arab role in Syria is becoming more necessary towards Iranian and Turkish [efforts at] territorial change in the region. The UAE today, through its presence in Damascus, seeks to activate this role." Six months earlier, Abu Dhabi and Moscow had signed a Declaration of Strategic Partnership. Riyadh has similarly drawn closer to Moscow. Hours after the UAE reopened its Damascus Embassy, Bahrain announced that it would likewise restore its diplomatic mission. Algeria, at odds with Turkey over its support of Islamist militants in neighboring Libya, has been lobbying for Syria to be invited the March 2019 Arab League summit.
CONCLUSIONS: Turkey cannot enter northeastern Syria without the tacit consent of Russia, which will gain air superiority in the area once U.S. forces withdraw. The rapprochement between the Assad regime and Turkey's major Arab rivals will make that consent more difficult to obtain. If a safe zone is established by the incursion of Turkish troops, Turkey's Arab rivals are likely to support Kurdish forces in Syria creating an intractable quagmire for Turkey with significant consequences for its own Kurdish region.
With Russia seeking to maintain Ankara's tilt toward Moscow, the Kremlin has suggested Syrian government forces could establish Turkey's proposed safe zone. During the Moscow January 23 meeting with Turkish President Erdoğan, President Putin declared that the 1998 Adana Protocol between Ankara and Damascus was still operative. Under the agreement, Syria closed PKK bases on its territories, imprisoned PKK fighters, and expelled PKK head Abdullah Öcalan, resulting in his 1999 capture. Iran joined the protocol in 2003 and would likely support Russia's proposal in order to limit cooperation between the Egypt-Saudi Arabia-UAE bloc and Damascus. At the next meeting of the Astana guarantors, Ankara may find itself forced to accept a Syrian-administered safe zone based on some updated understanding of the Adana Protocol.
AUTHOR'S BIO:
Dr. Micha'el Tanchum is a Fellow at the Truman Research Institute for the Advancement of Peace, Hebrew University and an affiliated scholar with the Centre for Strategic Studies at Başkent University in Ankara, Turkey (Başkent-SAM). Follow @michaeltanchum.
Picture credit: kremlin.ru accessed on January 24, 2019