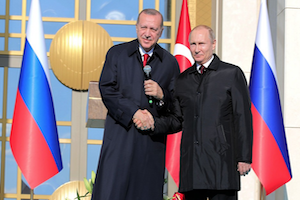 BACKGROUND: Turkey's ambitious nuclear program, stretching back decades, was intended from the outset to reduce the nation's dependence on oil and natural gas imports, which had been a persistent drag on the economy, particularly during times of high energy prices. In the government's first step towards realizing its vision, Akkuyu was chosen as the location for Turkey's first NPP when a license for the site was issued in 1976. In 1992 the government attempted to begin construction, but action by a coalition of 52 environmentalist groups halted operations.
Disregarding environmental concerns, the Akkuyu site has a number of factors recommending it. Being on the coast facilitates the transport of heavy machinery needed for construction. Akkuyu is also close to major urban markets for its electricity, including Adana, Konya, Antalya and Mersin. Prior to the site's groundbreaking ceremony, construction on roads and other facilities connected to the project began several years earlier.
In 2010 the contract was finalized between the Russian and Turkish governments for the Russian state-owned nuclear firm Rosatom to construct Akkuyu's four reactors. In the wake of the construction protocol, hundreds of Turkish students were sent to Russia to be trained in nuclear power plant operation, following which they were slated to work at the Akkuyu NPP, signing government contracts to serve there for 13 years.
Given its high initial investment, the Akkuyu contract incorporated a number of unique elements, as it stipulated that Rosatom was to build, own, and operate (BOO) four 1,200-MW VVER-1200 third-generation reactors, which solved two of the biggest challenges that new civilian nuclear powered generators face: financing and experienced operators.
Further deepening the project's integration into the Turkish economy, on June 19, 2017 Rosatom agreed to sell a 49 percent stake Akkuyu project for an undisclosed sum to a consortium of Turkish energy companies consisting of Cengiz, Kolin and Kalyon. Under the terms of the new investment agreement Rosatom would retain a 51 percent share of the nuclear plant in the deal, which the Rosatom noted was the biggest foreign investment into a Russian nuclear project abroad in 17 years.
In April 2008 the Turkish government announced that in addition to the country's first nuclear power plant at Akkuyu, a second NPP was planned near the village of Abali in Sinop's Inceburun district on the Black Sea, and that Forestry Ministry and Treasury land abutting Abali had in consequence been transferred to the Turkey Nuclear Energy Foundation (TAEK).
Turkey had originally been negotiating with Japan's Tokyo Electric Power company (TEPCO), the owner and operator of Japan's stricken Fukushima facility, to build the Sinop NPP, but in August 2011 TEPCO informed Turkey that it had withdrawn from the project, opening the way initially for potential South Korean involvement. On May 3, 2013 Erdoğan and his Japanese counterpart Shinzo Abe signed an agreement for the construction of the Sinop NPP on a build-operate-transfer (BOT) basis, with the contractors for construction being Mitsubishi Heavy Industry and France's Areva.
IMPLICATIONS: The Akkuyu NPP will create an estimated 10,000 jobs during construction; after the NPP begins operation, it is estimated around 3,500 people will be employed by the facility. The plan represents a substantial risk for the Turkish government, as Akkuyu's estimated $20 billion cost represents the largest investment a single project has ever received in Turkey.
Quite aside from the facility's financial risk, many Turks are apprehensive that the 4,000-megawatt Akkuyu facility once it becomes operational could suffer a meltdown like Ukraine's Chernobyl nuclear facility underwent in April 1986, as the radioactive plume spewed by the damaged NPP blew southeastward and heavily contaminated Turkey's Black Sea coastline.
Further adding to environmentalists' worries is the fact that the Akkuyu NPP is situated in a region subject to earthquakes. On June 27, 1998, a major earthquake measuring 6.3 on the Richter scale occurred in nearby Adana. The quake, which caused damage estimated at $1 billion, killed 150, injured 1,000 and damaged 74,300 buildings. Turkey is one of the most seismically active regions in the world, rating 6th in the world of nations suffering annual earthquakes measuring 5.5 or greater on the Richter scale. Earthquakes have killed 950 citizens and have produced an average annual economic loss of over $1 billion over the past decade. Research has determined that an active fault line, the Ecemis fault, runs only 15 miles away of the Akkuyu site. Disenchantment over Akkuyu's groundbreaking continues; the day that Erdoğan and Putin inaugurated the project Turkey's leftist opposition Birgun newspaper's headline said, "We are becoming the nuclear dumpsite of the world."
In its drive for more nuclear power, Turkey is looking beyond its current bilateral contacts with Rosatom. On November 24, 2014 Turkey signed a Memorandum of Understanding between the Chinese State Nuclear Power Technology Corporation (SNPTC), Turkey's Elektrik Üretim A.Ş. state-owned electricity generation company and the U.S.-based Westinghouse Electric Company, which provided exclusive negotiation rights to SNPTC and Westinghouse for Turkey's projected third nuclear power plant, to be built at İğneada in Turkey's northwestern Thracian Kırklareli province on the Black Sea.
CONCLUSIONS: The Akkuyu NPP is the most obvious element in a deepening relationship between Russia and Turkey, both increasingly outcasts on the global stage due to the authoritarian tendencies of their presidents. Putin's visit to Turkey is his first trip abroad since winning reelection in March. A second energy project between the two countries is construction of the $12 billion TurkStream pipeline to transport Russian gas to Turkey. The deepening economic relationship also is impacting military relations, as Turkey is now negotiating the purchase of S-400 missile defense systems from Russia, causing concern among many of Turkey's NATO allies.
Despite the March 2011 Fukushima Daiichi nuclear disaster, the world has seemingly overlooked the dangers of nuclear power, with a number of countries besides Turkey committed to its expansion. Beyond Akkuyu, thirty-one countries now operate 450 NPPs, with an additional 55 NPP's under construction in 16 nations. Despite the political environmental risks, Turkey is determined to deepen its relationship with Russia as embodied in its Akkuyu NPP. Whether seismic activity similar to that which destroyed Fukushima Daiichi or human error which demolished the Soviet Union's Chernobyl NPP will occur on Turkey's Anatolian coast remains to be seen, but they are factors that certainly should have received more consideration in Turkey's headlong drive towards energy autonomy, which does not seem to have occurred thus far.
AUTHOR'S BIO:
Dr. John C. K. Daly is a Nonresident Senior Fellow of the Central Asia-Caucasus Institute & Silk Road Studies Program; current work includes monographs on the development of Eurasia's railways and the dissolution of the Soviet Navy.
Picture credit: By en.kremlin.ru accessed on July 5, 2018